Motlow Opens First Cyber Lab on Moore County Campus
September 15, 2022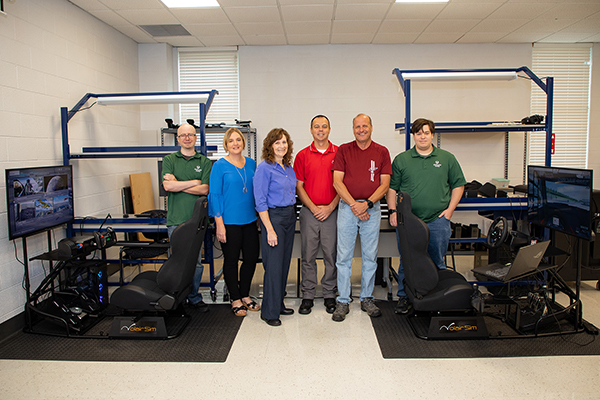 Motlow State Community College opened its first Cyber Lab for students at the College's Moore County campus this semester. The lab is located in Simon Hall, room 132, and is free for all students to come Monday through Friday from 8 a.m. to 4:30 p.m.
"Our new Cyber Lab features all of the equipment necessary to Motlow's Cyber Defense courses. Students can take apart and rebuild computers, dig deep to diagnose issues with specialized tools, and learn ethical hacking," explained Walter McCord, Dean of Career and Technical Programs at Motlow.
The lab is a safe area for students to practice processes required to make sure a network and computer system are safe. By learning how to break into networks, they also learn how to prevent others doing the same.
In addition to being a location for learning, the lab also features recreational equipment, such as a drone simulator, flight simulator, driving simulator, and some XR/VR equipment any student can use. Students can also learn how to program simulators.
"The lab is designed for Cyber courses, but it is open for all students to use. Anyone who wishes to drop by and learn about cyber defense and use some of the equipment are welcome to do so. We also can help students repair phones, laptops, and their own personal gaming computers," said McCord.
Two full-time Cyber Lab technicians will be available during operating hours. They ensure all hands-on exercises can be completed based on the various course requirements.
"For example, in our hardware class, one of the exercises is to upgrade the hard drive and the memory," McCord said. "If a student wishes to do this, they can come into the lab and learn to do it with the equipment we have available."
Many of the items the lab features were funded by donations. To help build similar labs on Motlow's other three campuses the Motlow College Foundation established a Cyber Lab Fund for future donations. The Tri Lakes Sports Car Club made the first donation to the Cyber Lab Fund to help bring Moore County's lab to fruition. For decades, the Club has donated to scholarships at Motlow and was eager to contribute the Cyber Lab. Their donation was used to build the driving simulator.
"This is the future of our Cyber program. We wanted a fun and engaging place for students that would also help them learn," explained Angie Parrish, administrative secretary at Motlow and member of the Tri Lakes Sports Car Club. "While any student can come and have fun in this space, Cyber Defense students now have a place to practice and hone their computing and networking capabilities. They can even program the simulators."
In the future, the lab is anticipated to operate during evening hours for special events, eSports, and more.
"The lab is also available to Motlow's SkillsUSA competitors who want to come and practice. Dual Enrollment students in SkillsUSA who want to hone their skills can also use it," added McCord.
To donate to the Cyber Lab Fund, contact the Motlow College Foundation at [email protected] or (931) 393-1692.