Motlow External Affairs Wins Prestigious National Awards
June 10, 2021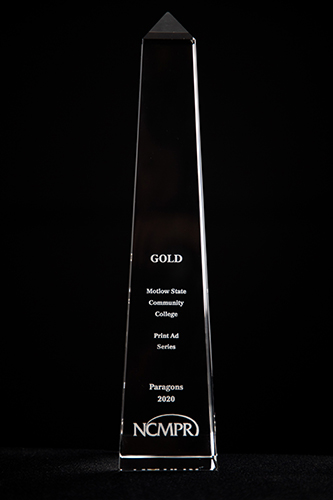 Motlow State Community College was bestowed multiple national-level awards from the National Council for Marketing and Public Relations (NCMPR) Paragon Awards during the spring.
"The External Affairs Department continues to design award-winning marketing materials that bring national recognition to Motlow State that magnify the accomplishments occurring across our campuses," said Motlow President Dr. Michael Torrence, "We commend EA on another award-winning year."
"Motlow External Affairs has been a great steward of the stories inspired by the outstanding people of the Motlow Family. This an authentic family-wide honor," said Dr. Tony Millican, chief learning officer and executive vice president of workforce and community development at Motlow.
Winning entries, from large and small colleges across the country and Canada, demonstrated creativity and originality that set them apart in this year's competition. Paragon finalists are winners in their respective regions before advancing to the national competition. Paragon Awards are presented annually to college that have produced the nation's best work in 53 categories.
Motlow received the following in the NCMPR 2020 Paragon Awards:
GOLD: Print Ad Series – Simple & Free Poster Ads, Informational and Teaser
SILVER: Wildcard – Brand Research Campaign
SILVER: Print Ad Series – 50 Years of Stories Print Ads
BRONZE: Print Ad Single – 50 Years of Stories Print Ad