Adam Boyd Awarded Chancellor's Commendation For Military Veterans
November 18, 2021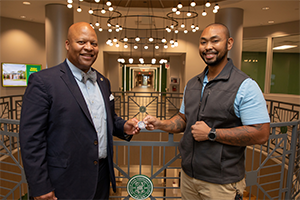 Adam Boyd, Motlow State Community College student and Marine Corps Veteran, was awarded the Chancellor's Commendation for Military Veterans.
"I am honored to receive the Chancellor's Commendation award for military veterans. Thank you Motlow staff for recognizing all military Veterans," said Boyd. "I also would like to thank Michael Neal, the Veterans Affairs Coordinator, for providing outstanding guidance and additional advice during admission."
The Tennessee Board of Regents (TBR) Chancellor Flora W. Tydings established the commendation last year to honor the service, bravery and sacrifices of Veterans in the campus communities. Boyd was one of 37 Tennesseans to receive the Commendation.
"I'm honored to support TBR in acknowledging all those who've served. We're thankful that Veterans continue to choose Motlow and recognize us as a supportive post-secondary institution," said Motlow President Dr. Michael Torrence. "Adam is an exemplar of the men and women who serve our country and come back for further skill development to integrate into Tennessee's workforce."
"All military personnel take an oath in which they solemnly swear or affirm to support and defend the Constitution of the United States against all enemies. That defense of our great nation requires tremendous sacrifice. Our college communities are strengthened by the presence, experience and perspective of veterans and active-duty military personnel – as students, faculty, staff, and alumni. They are an important part of the great diversity of people and backgrounds on our campuses. We're glad they're here, and we're privileged to honor their service – not only on Veterans Day but all year long," Tydings said.
Boyd served in the Marine Corps from 2007-11 with the 2nd Light Armored Reconnaissance Battalion. He completed three deployments, one to Iraq and two to Afghanistan.
"I am honored to have served my country and will continue to serve my community," Boyd said.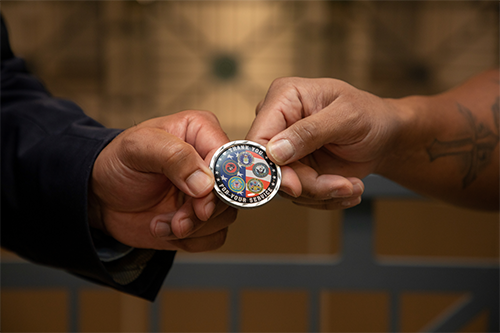 Boyd was presented a special TBR Challenge Coin from Torrence on behalf of the chancellor. Challenge coins are a rich tradition in all branches of the military and signify special achievement, excellence, hard work, unit pride, respect, and esprit de corps.
Recipients of the Chancellor's Commendation were nominated by their college presidents. This year's recipients include 14 Soldiers, nine Sailors, seven Airmen, six Marines and one Coast Guardsman.
"These 37 men and women represent the spirit and values of our colleges – student success, academic excellence, courage in adversity, and service to campus and community – and the highest ideals of military service," Tydings said.
View the full list of commendation recipients at www.tbr.edu.
Information on resources for veterans interested in pursuing their education is available here. Information on financial assistance for veterans is available here.
Tennessee's Community Colleges is a system of 13 colleges offering a high-quality, affordable, convenient, and personal education to prepare students to achieve their educational and career goals in two years or less. The system offers associate degree and certificate programs, workforce development programs, and transfer pathways to four-year degrees. For more information, please visit us online at tbr.edu or visit Motlow at mscc.edu.