JC Williams: Awarded the Department of Defense SMART Scholarship
June 10, 2021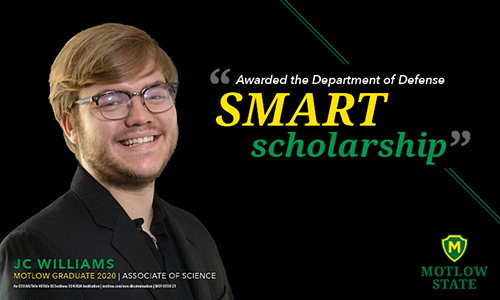 I began my education at Motlow State Community College as a dual enrollment student during my junior year at Franklin County High School. I was recently awarded the Department of Defense Science, Mathematics, and Research for Transformation Scholarship (SMART). I believe my time at Motlow contributed to getting it.
This award provides me full tuition for up to five years, summer internships, a stipend, and full-time employment with the Department of Defense after graduation. This unique opportunity offers me hands-on experience at one of over 200 of the nation's most innovative laboratories across the Army, Navy, Air Force, and larger Department of Defense. During summer internships, SMART Scholars work directly with an experienced mentor, gaining valuable technical skills. After graduation, I will work at the U.S. Army Space and Missile Defense Technical Center - Redstone Arsenal in Huntsville, Ala.
I enrolled in two dual enrollment courses at Motlow, English Composition I and II, to complete my writing requirements early. I knew that I wanted to attend Motlow State full time after high school and study electrical engineering before transferring to Tennessee Technological University (TTU). I used the Tennessee Promise grant for my first two years at Motlow, allowing me to save money for tuition costs at Tennessee Tech while still completing my associate degree. I began studying full time at Motlow in 2018, and I received my Associate of Science in 2020.
I served as an active member of the Motlow Honors College. During orientation for Motlow in the summer of 2018, I was approached by Ms. Erica Newman and Dr. Megan McManus about joining the Honors program. To say that I enjoyed studying in the Honors College would be an understatement!
I believe that the Honors College is one of Motlow's most appealing features. Students have access to excellent opportunities, such as unique and enjoyable courses, scholarships, fellowship, service, and outreach, because of the Honors College. I traveled to various conferences throughout Tennessee and the southeastern United States.
Also, I served as Chair of the Motlow State Student Honors Advisory Board. I worked with faculty and students to meet student needs and create more opportunities for fellowship and service in the organization. I would encourage every student to explore the Honors College.
Motlow's faculty members contributed significantly to my receiving this scholarship. I enjoyed studying under every professor that instructed me. I created many professional relationships with my professors and other faculty members while completing my degree.
Motlow has some of the most genuine and caring professors and faculty members I have met in a professional setting. I saw the level at which they cared for students. From resume-building to academic research to professional interviews, I learned foundational concepts that I needed at the university level to interview for scholarships, internships, and full-time positions. I would not have been able to gain the experience that helped me receive this scholarship if not for the faculty and staff of Motlow and their desire to help students reach their goals.
I am thankful for my time at Motlow and the benefits and opportunities available to students. I recommend attending Motlow to anyone who wishes to receive a valuable education, engage with caring and helpful faculty and staff, enjoy their days of studying, and work towards their academic goals.
I am very blessed and thankful that the DOD selected for this award me. It will help make my dreams a reality and allow me to have financial peace of mind while continuing my education in electrical engineering. I will use the scholarship to complete my Bachelor of Science in Electrical Engineering, focusing on Electromagnetics and Power at TTU. I plan to attend graduate school to complete my master's degree in Electrical and Computer Engineering while working at Redstone Arsenal.
The DOD SMART scholarship is just one example of many opportunities available to Motlow students. There are countless opportunities available to Motlow students to compete on the same footing as students from four-year universities. If anyone is interested in the application process for the DOD SMART scholarship or other national opportunities available to STEM students at Motlow, please reach out to me. I will be glad to answer your questions. We know Motlow for its quality of students, faculty, and staff. I am proud to say that I attended and earned my Associate of Science from Motlow.
Special thanks to Dr. Meagan McManus, Dr. Patrick Murphy, Dr. Charles Wexler, Dr. Pamela Harris, Dr. Stephen Guerin, Ms. Chatney Spencer, Ms. Erica Newman, Ms. Sheri Mason, Ms. Bertha Smith, and Rob Keel.