Motlow ARTC Earns FANUC FAST Status
January 26, 2021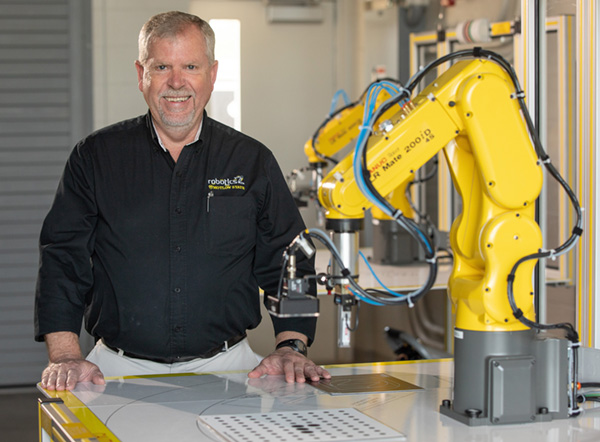 Motlow State's Automation & Robotics Training Center achieved a significant milestone recently, advancing into the FANUC Authorized Satellite Training (FAST) Program.
Achieving FAST school status qualifies Motlow's students who successfully complete the authorized course work to be on par with those attending FANUC provided training. FANUC recognizes FAST certified students as eligible for advanced training.
Motlow Senior Robotics Trainer Charlie King is a FANUC Certified Education Robot Training (CERT) Program instructor. This certification includes FANUC Handling Tool Operations and Programming. With the FAST endorsement, Motlow will elevate its program by offering the FANUC CERT program to students, local industry, professionals, integrators, and end users.
King has over 35 years of experience with robotics and automation in the manufacturing industry. FANUC America, a world-leader in manufacturing industrial robots, provides the necessary training for instructors in both Industry as well as educational classes. FANUC's curriculum introduces students to robot applications, including integrated vision systems (iRVision), programming a robotic logic controller, and using ROBOGUIDE simulation software.
Obtaining the CERT certification qualified Motlow to be a FANUC FAST program. Motlow's advancing of the CERT Education program to FAST endorsement further elevates the college to an elite group of industry-recognized institutions relied upon to help provide a highly skilled workforce to local industry, meeting the needs of today's and tomorrow's manufacturing businesses.
The 12,500-square-feet ARTC is located on 4.5 acres of land, donated by the Warren County Commission, adjacent to the Motlow State and Tennessee College of Applied Technology campus in McMinnville. The ARTC offers automation training, including digital systems, sensors, electronics, hydraulics, pneumatics, programming, and alarm management. Robotic training can be realized through two distinctive pathways: training for industry and job seekers and college credit instruction.
Tennessee's Community Colleges is a system of 13 colleges offering a high-quality, affordable, convenient and personal education to prepare students to achieve their educational and career goals in two years or less. We offer associates degree and certificate programs, workforce development programs and transfer pathways to four-year degrees. For more information, please visit us online at www.tbr.edu.