Don Counts: Reaching for the Stars
November 13, 2019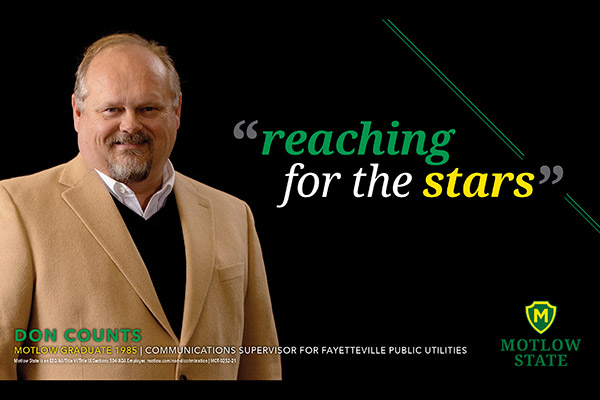 Motlow State Community College got me on the right track. I grew up in Lincoln County, and I enjoyed all the things surrounding my high school, like clubs, sports, and drama. I never thought that college was something I was going to do.

After high school, my Dad got me a job working in a local factory. I told myself that if I could ever get out of this job, I am was going back to school. I was not ready academically when I started at Motlow; however, Motlow got me ready, and I am very thankful.

With Motlow came all the things I had loved in high school that I did not realize college offered. It offered clubs, sports, band, and drama. I liked what Motlow had to offer and loved the atmosphere. Motlow allowed me to work, make money, and learn at the same time. Motlow had it all for me. I got involved in everything I possibly could, and it helped make me what I am today.

When I was at Motlow, I thought I could do it all, and believe me, I tried. I had some of the best, most-patient faculty members like Debbie Zimmerman, Weldon Payne, Mike Russell, Dr. Michael Bradley, and Motlow Dean Frank Glass, who later became president. Classmate Jeannie Tucker Brown was a great help and encourager. She went on to be a faculty member of Motlow as well. My time at Motlow helped me be ready to take on the world. The faculty honed me in and encouraged me to reach for the stars, and I continue to work every day to make this world a better place.

My studies at Motlow led me to work in local radio and local access TV. I worked at WBGY-FM, WYTM-FM, WEKR-AM, and WNKZ-AM. I currently work at Fayetteville Public Utilities as Communications Supervisor, where I am involved in public relations and marketing and work on the local access cable channel.

Motlow is a great place, and I say thank you for everything it did for me.