TBR Convenes at Motlow; Approves Distilled Spirits
October 2, 2023
Motlow State Community College recently hosted the Tennessee Board of Regents (TBR) at the Moore County Campus for their quarterly meeting. Motlow partnered with the Shelbyville, McMinnville, and Murfreesboro Colleges of Applied Technology (TCATs) in hosting the board meeting. Actions at the September 2023 meeting included approval of Motlow's Associate of Applied Science degree in Distilled Spirits at the Nearest Green Academy of Distilling.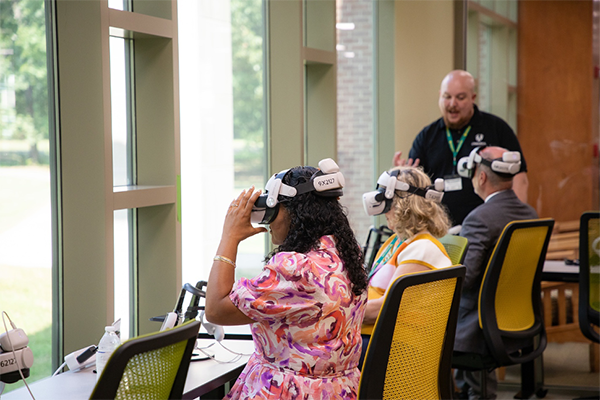 Pictured: Three of the TBR members learning about Motlow's XR Lab that elevates students' learning experiences.
TBR Leads the State 2-Year System
The Board of Regents consists of 19 state leaders who volunteer their time and energy to serve as the governing board for the state's 13 community colleges and 24 technical colleges. While the board works year-round, it hosts quarterly public meetings where it formally exercises its role in setting the vision for the system, addresses operational and policy needs and approves plans designed to the meet the needs of students.
When campuses in the TBR system host the meetings, such as the one held at Motlow, Regents have the opportunity to meet more of the students, faculty, and college leaders impacted by their service. Board meetings also give Regents the opportunity learn more about facilities, programs, and the regional communities served by each college.
Board Vice Chair Emily Reynolds, the presiding officer, noted, "Our board thrives on visiting our campuses, meeting faculty and staff, and most of all, seeing our students." She added, "The Motlow (Moore County) Campus is unique in its setting and beauty, and our Regents who were visiting for the first time were most impressed. Being on our campuses gives us a better understanding of the impact of our decisions and brings a spring in our step as we see the good work happening on our TBR campuses.
President Torrence's Address
Dr. Michael Torrence, President of Motlow State, addressed the Regents, other college presidents, system leaders, and employees present for the meeting. His remarks included a review of Motlow's successful partnership with T-Mobile. Through this partnership, Motlow equipped learners with 5-G technology to support remote learning and student success. It provided learners with reliable access to both academic programming and critical support services. In addition to classroom, tutoring, and library connectivity, the Motlow T-Mobile project linked students to support programs addressing hunger, homelessness, and mental health issues that can arise unexpectedly and derail college completion if not addressed swiftly.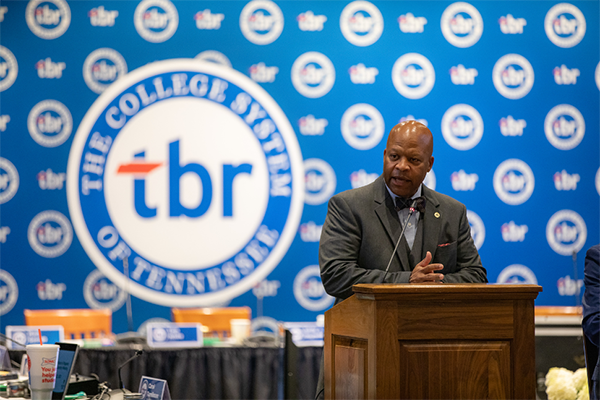 Pictured: Dr. Torrence presenting at the TBR quarterly board meeting.
Metaversity's Digital Wallet Vision
Torrence also previewed Motlow's early success and long-term vision of the Metaversity project's development of a Digital Wallet. Metaversity is the name of the software and mobile app platform facilitating student Digital Wallets. This platform gives Motlow students a simple and accessible stage for collecting and sharing credentials.
Metaversity's Digital Wallet blends college degree and workforce training portfolio development. It allows students to automatically download validated, visual evidence of their credentials and then easily share their portfolio of growing marketable coursework, skills, and certifications with prospective employers. Digital Wallets make Motlow learners powerful contenders for the best positions.
A Faculty Perspective
Ramona Shelton, Motlow's Associate Professor of History and Outgoing Faculty Regent for TBR, stated, "What we do on a daily basis in the classrooms of our TBR institutions is to make magic happen. We change the lives of our students which in turn makes our state a better place. It was such an honor for Motlow to host the September quarterly board meeting because it allowed President Torrence and the presidents of our TCAT sister institutions to spotlight the successes we have seen and our plans for the future."
While at Motlow for the board meeting, Regents also visited the Nearest Green and Jack Daniel's distilleries. Their trip included visiting Motlow's Virtual Reality Labs where they participated in curated virtual reality experiences to learn more about how the College uses VR to enhance instruction. Motlow is a leader in building high-impact learning experiences which include developing high-tech learning labs such as simulated hospital environments, immersive aviation simulators, robotics labs that feature equipment from the world's leading robotics manufacturers, and mechatronics workspaces where Motlow trains multi-craft automation specialists.
The board convened in the Powers Auditorium in Eoff Hall at Motlow's Moore County Campus. The agenda included the approval of Motlow's proposed Associate of Applied Science in Distilled Spirits. Now that the Distilled Spirits program has TBR approval, Motlow will submit the new academic plan for accreditor review. Motlow is accredited by the Southern Association of Colleges and Schools Commission on Colleges (SACSCOC).
To learn more about the Tennessee Board of Regents, visit tbr.edu.