SkillsUSA Team Brings Home Hardware
April 28, 2023
Motlow State Community College recently sent 30 students to the 2023 SkillsUSA State Leadership and Skills Conference in Chattanooga, TN. Students competed in a variety of events and brought home medals in the following championships:
Internetworking, Gold – Gabby Miller
Telecommunications Cabling, Gold – Mariam Tanas
Job Interview, Gold – Nicole Maneiro
First Aid-CPR, Gold – Annemarie Campbell
First Aid-CPR, Bronze – Leslie Cole
Extemporaneous Speaking, Bronze – Jorgan Petit
EMT, Gold – Georgia Charlton and Trista Parton
EMT, Silver – Molly Hicks and Alexis Olsen
EMT, Bronze – Keely Ping and William Frisby
Courtesy Corps – Billy Smith
Mechatronics Competitors – Trenton Scrivnor, Jakob Raby, Francealyscia Buckner, and Adam Butler
Information Technology Services Competitor – Elijah Webster
Advisor of the Year – Dr. Joy Rich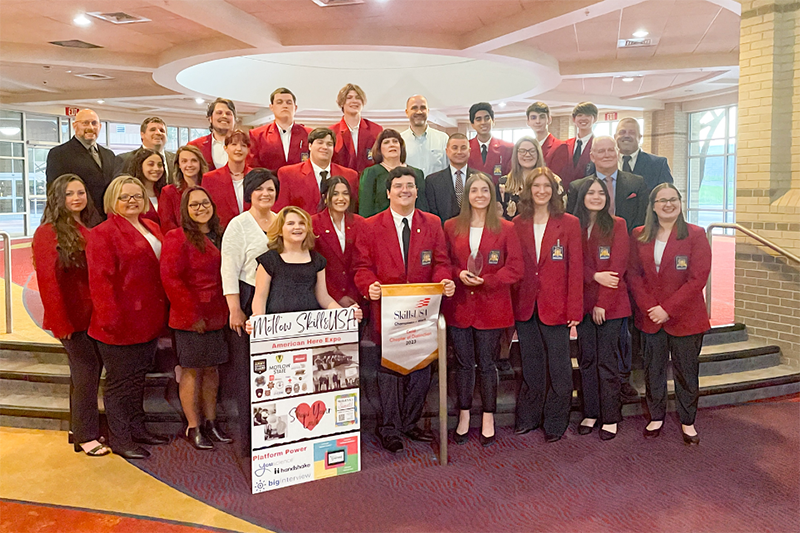 Pictured from left to right: Back row – Kenny Moffitt, Houston Austin, Jakob Raby, Adam Butler, Trenton Scrivnor, Eric Reynolds, Jorgan Petit, William Frisby, Elijah Webster, and Billy Smith. Middle row – Trista Parton, Keely Ping, Francealyscia Buckner, Lance Rains, Dr. Amy Holder, Joseph Marco, Aspen Flarity, and Walter McCord
The students thank SkillsUSA Advisors Dr. Joy Rich, Houston Austin, Kenny Moffitt, Dr. Amy Holder, Aspen Flarity, Joseph Marco, Walter McCord, Eric Reynolds, and Lance Rains. They also give a special thanks to Mechatronics program instructors Larry Flatt, Charlie King, Emmitt Woodard, and Melissa Paz for providing the robots for the Mechatronics and Robotics Automation Technology competition. Adult Initiatives Program Manager Eric Murry represented Motlow at the recruitment/Techspo event, and Academic Resource Center Director as well as History Professor Ramona Shelton served as a state judge.
Motlow's Gold Medalists will travel to the National SkillsUSA Conference in Atlanta, Georgia, in June. SkillsUSA is a nonprofit organization for students in elementary school through college or postsecondary education that equips them for trade, technical, and skilled-service careers. To find out how you can connect with our Motlow SkillsUSA Chapter, contact us at [email protected].