Motlow PTK Named Top 8 Chapter
April 26, 2023
Motlow State Community College's Alpha Xi Pi Chapter of Phi Theta Kappa (PTK) International Honors Society recently traveled to Columbus, Ohio, for the international Catalyst 2023 convention. They came home with an impressive portfolio of awards, including recognition as the 8th most successful chapter in the world. The mission of PTK is to cultivate and recognize the academic achievements of college students and to provide opportunities for them to grow as rising scholars and new leaders.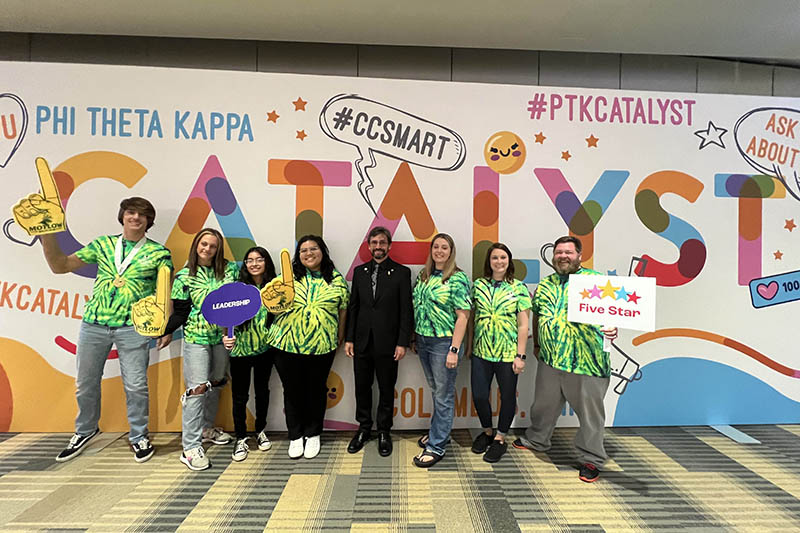 Pictured from left to right: Students – Raymond Morton, Amarah Dove, Alejandra Sofia Amaya, and Ashley Portillo. Advisors – Gregg Garrison, Misty Griffith, Dayron Deaton-Owens, and Rob Keel.
Each year, PTK chapters from around the world complete various projects. The outcomes of those projects become their competitive submissions for regional and international awards. Scholars gathered in Columbus for educational forums, professional development, scholarship networking, and fellowship with other members. Students were able to hear from speakers including health and performance advocate Manti Te'o as well as actress, athlete, and women's advocate Geena Davis on topics ranging from perseverance to empowerment.
The culmination of the event is the PTK Hallmark Awards Gala, where chapters are honored for demonstrating their embodiment of PTK's four hallmarks: leadership, scholarship, service, and fellowship.
The Motlow State Chapter received international awards, including:
Five Star Chapter
International Distinguished College Project Award
International Distinguished Honors in Action Project
International Top 100 Chapters
International Distinguished Chapter Award
International 8th Finalist for Most Distinguished Chapter in the World
In addition to chapter awards, two Motlow State advisors received international awards:
International Distinguished Advisor Award - Rob Keel
International Continued Excellence Advisor Award - Dayron Deaton-Owens
Under the leadership of Regional Coordinator Gregg Garrison, Motlow State's chapter also contributed to the Tennessee Region awards:
International Five Star Region
International Regional Award of Excellence in Leadership
Alpha Xi Pi's College Project focused on collaborating with Motlow State staff to support mental health initiatives, while its Honors in Action Project assessed student perspectives regarding the importance of integrating virtual reality in education and training.
Raymond Morton, Chapter President of PTK & Vice President of College Project, stated, "Catalyst has been an amazing experience for me. I have learned so many valuable things such as the educational forums. My major takeaway from this experience was the connection I've built with so many people around the world. This has been some of the best times of my life."
In addition to the main Catalyst 2023 convention, Motlow students Amaya and Portillo received special invitations to attend pre-conference Black and Latinx Student leadership sessions.
Ashley Portillo, Chapter Co-Secretary & Recording Officer, stated, "The 2023 PTK Catalyst made a permanent mark on me. Throughout the convention, I felt the incredible sense of fellowship and connections fellow PTK members have with each other. My biggest takeaway from this event was that you belong in every room you walk into. You should never feel that you are not good enough for a certain group or opportunity. You need to believe that you can achieve your goals, and you deserve that position."
Alejandra Sofia Amaya, Chapter Co-Secretary & Recording Officer, added, "The PTK Black and Latinx Student Leadership Conference was a remarkable experience that I'm thankful to have been given the opportunity to experience. It was an engaging, supportive, welcoming, and inspirational event. Reggie Butler emphasized belonging, the four stages of psychiatric safety, speaking up, and more."
The chapter's achievement of 8th Most Distinguished chapter in the world is the highest ranking that any Alpha Xi Pi class has achieved. To learn more about Phi Theta Kappa and how to join, visit www.ptk.org.
Visit our Facebook page at facebook.com/MotlowStateCC to view the gallery of photos from the event.