Motlow-Smyrna Installs Ambulance Simulator
September 15, 2023
Motlow's Smyrna campus recently became the College's third site to receive an ambulance simulator for the Emergency Medical Services (EMS) Program. A crew worked for three days straight to build the simulator, giving instructors a new resource to expand the simulations and trainings available to students.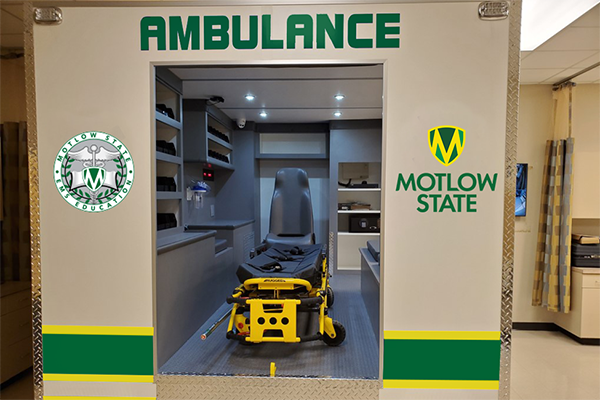 The purpose of the simulator is to create scenarios that mirror real-world emergencies to prepare students to treat patients in the field. The simulator serves as a micro lab that offers realistic training environments, facilitates faculty observation, and controls instructional costs. Ambulances can cost upward of $100,000 and require ongoing automotive maintenance while simulators are a one-time investment.
The Emergency Medical Services program trains students to become Emergency Medical Technicians (EMT), Advanced EMTs (AEMT), and Paramedics. All three licenses provide students with ever-growing career pathways and new opportunities to advance, grow, or transition. The College's mission is to build an environment where students can learn practical skills through hands-on interaction and teamwork. They can also learn how to safely use and maintain equipment while in a tight space or in a moving vehicle.
Running drills with the simulator teaches students how to handle the mental and physical pressures that come with being on the front lines in an emergency. The EMS program teaches critical thinking and situation preparedness skills that students can apply to any area of their work lives. Because this training turns graduates into lifelong problem solvers, those who complete the program can also use EMS certifications to boost their resumes and further their careers in other fields.
According to Motlow EMS Director Houston Austin, "EMS is the infant of all medicine. The Emergency Medical Services field as we know it has only been in the state of Tennessee for about 50 years. Until two years ago, it was not considered an essential service. It is now recognized as one of the most nimble and flexible clinical credentials in the field and provides EMS professionals a wide range of career options."
Those who attend Motlow's Fayetteville, Sparta, and now Smyrna campuses can utilize this simulation training to prepare themselves for handling the unknown. Motlow thanks the crew who made this training asset possible and for the EMS staff who train students to save lives. If interested in learning more about the program, visit Motlow.edu/academics/programs/ or contact 931-393-1859.