Motlow Hosts 49th Nurse Pinning
May 10, 2023
Motlow recently pinned nearly 40 nursing students at its 49th Annual Pinning Ceremony. Nursing faculty presented the students with pins bearing Motlow's insignia to reflect the school they attended and symbolize the completion of an Associate of Applied Sciences degree in Nursing.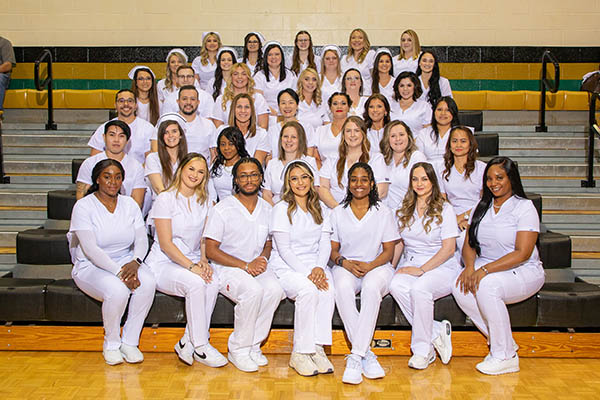 Front Row - Adaeze Ikejiani, Chloe Heath, Kaleb McKissick, Veronica Alvarez, Danyel Wisdom, Sabiha Meho-Kallo, Kaleiah Brown. Second Row - Mark Calda, Ciara Smith, Grace Atuahene Yeboah, Louisa Branch, Alexandria Meyer, Gabrielle Spraggins, Rosalie Kuhn. Third Row - John Puerta Bohorquez, Marcos Caicedo Montesino, Jessica Martinez, Mingxia McInturff, Andolyn Pope, Caroline Nix, Catarina Pascual. Fourth Row - Rachael Cortazzo, Andrew Hodge, Autumn Myers, Kristin Thomason, Daphne Davenport, Jessica McGill. Fifth Row - Rebecca Mescall, Jadan Campbell, Karyn Johnson, Randi Gill, Victoria Metzler, Claire Cessac. Last Row - Darlyn Torres Barrientos, Kaitlen Domergue, Lily Anderson, Brittany Conn, Kayla Brown
Class President Kaleb McKissick and Dean of Health Sciences Dr. Amy Holder both spoke at the event, congratulating students on their success and recognizing students who served in officer positions.
McMinnville Instructor Linda A. Hemmila, Moore County Instructor Janet Thornton, and Interim Director of Nursing Brittany Clark pinned their respective graduates. Assistant Professor of Nursing Dr. Stacey Harlan led the students in reciting the Nightingale Pledge, named after Florence Nightingale, in which students promise to uphold the values and mission of the medical field. They also participated in the traditional lamp lighting, which symbolizes becoming a beacon of hope to the patients they serve.
Nursing Graduates include:
Veronica Alvarez
Lily Anderson
Grace Atuahene Yeboah
Louisa Branch
Kaleiah Brown
Kayla Brown
Marcos Caicedo Montesino
Mark Calda
Jadan Campbell
Veronica Carver
Claire Cessac
Brittany Conn
Rachael Cortazzo
Daphne Davenport
Kaitlen Domergue
Miranda Fraley
Randi Gill
Courtney Hargis
Chloe Heath
Andrew Hodge
Adaeze Ikejiani
Karyn Johnson
Rosalie Kuhn
Jessica Martinez
Jessica McGill
Mingxia McInturf
Kaleb McKissick
Sabiha Meho-Kallo
Rebecca Mescall
Victoria Metzler
Alexandria Myer
Autumn Myers
Caroline Nix
Catarina Pascual
Amanda Pettit
Andolyn Pope
John Puerta Bohorquez
Ciara Smith
Gabrielle Spraggins
Kristin Thomason
Darlyn Torres Barrientos
Danyel Wisdom
Motlow congratulates all of these graduates on this achievement and wishes them success in their future endeavors.
Visit Motlow's website to learn how to enroll in the nursing program or to find information about other degree pathways.