Motlow Graduates New Class of Paramedics
August 16, 2023
Motlow State Community College recently held a commencement ceremony for the 2023 class of Paramedics. Students from the Smyrna and Sparta locations walked the stage to receive plaques commemorating their achievement. This is the first group of Paramedic graduates from the Sparta site.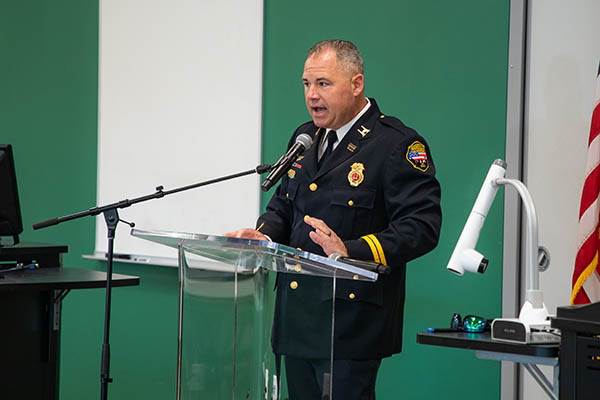 Pictured: Metro Nashville Fire Department Captain Brian Felts gives a congratulatory speech to the graduates.
A total of 25 students walked the stage at the Smyrna campus to complete the Paramedic program. Motlow EMS Director Houston Austin and Paramedic Coordinator Michael Peveto spearheaded the event, presenting the students with their plaques of course completion. Metro Nashville Fire Department Captain Brian Felts, the keynote speaker for the event, gave the students a message about the hard lessons learned in the EMS and Fire Service.
Austin stated, "These students have worked hard to reach this point and have earned their places in the medical field. We are very proud of all their hard work and dedication to serving others."
Peveto added, "Do or do not. There is no try. These students did everything asked of them, and we look forward to seeing their successes."
To become a Paramedic, students must complete their Emergency Medical Technician (EMT) and Advanced EMT certifications. These certifications total over 1,000 hours of training in advanced medical treatment, such as administering medication, monitoring electrocardiograms, inserting IVs, and transferring patients from the ambulance to the emergency room.
Graduating Students Include:
Smyrna:
Kory Anderson
Jennifer Buwalda-Hiett
Ziea Clark
Daphanie Crenshaw
Estrella Galindo
Matthew Hodge
Caleb Holt
Blake Hutchins
Abbigail Klein
Tim Lavier
Brian Marshall
Tyler Mitchell
Jeana Page
Chantelle Peveto
Matthew Price
Wesley Rogers
Zach Smith
Brittani White
Beau Williams
Sparta:
Jenny Clouse
Megan Dotson
Jack Knowles
Trevin Merriman
Josh Miller
Callie Moore
Highest Academic Performance Award - Smyrna Recipients:
Top Academic Students: Blake Hutchins, Wesley Rogers, and Daphanie Crenshaw'
Top Skills Performers: Zach Smith, Caleb Holt, and Timothy Lavier
Marche ou Creve (March or Die) Award: Beau Williams
Highest Academic Performance Award - Sparta Recipients:
Highest GPA: Josh Miller
Best Skills: Callie Moore
Airwolf Award: Megan Dotson
The Marche ou Creve Award, named after a family motto, is a personal award that Peveto gives to the student who has shown the most improvement through tenacity, drive, and determination. Sparta Lead Paramedic Instructor David Weaver, who was given the nickname "Airwolf" earlier in his career, presents the Airwolf Award to the student who exhibits the most improvement in confidence and Paramedic skills.
Weaver helped to make the first group of Sparta Paramedic graduates possible. This is also his first group of students to graduate from the Paramedic program. The quote he always repeats to his students to remind them to always give their best effort is "Nobody is coming. It's up to us."
Pursuing EMT, AEMT, and Paramedic certifications gives students a practical route to the workforce. They are eligible for TN Promise and Reconnect. Obtaining a Paramedic license can also better prepare students for going into the nursing field. Motlow offers a one-year pathway to train Paramedics to sit for the NCLEX and transfer their medical knowledge from the ambulance to the hospital.
Those interested in Motlow's Emergency Medical Services program can email [email protected] or call 931-393-1859.