Motlow Fayetteville Celebrates 30 Years
September 5, 2023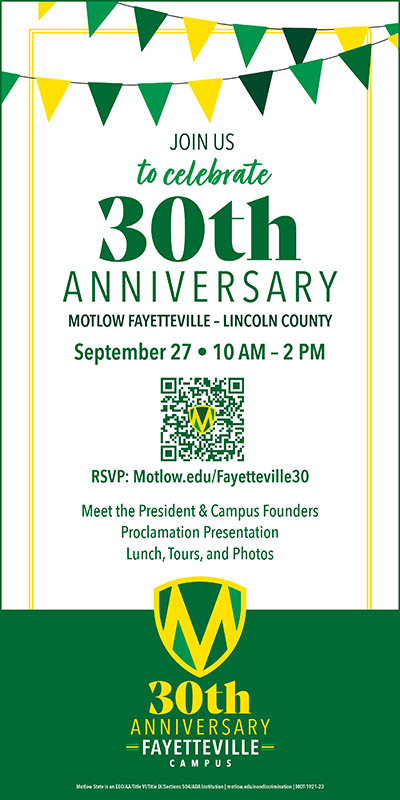 On September 27, Motlow's Fayetteville campus will celebrate 30 years of academic excellence and service to students and the community. In honor of this achievement, Motlow Fayetteville will host a 30th anniversary event for the community, prospective students, and current students where they will learn about the past, present, and future of the institution.
Members of the community, including retired Motlow faculty and staff and alumni, business leaders, members of the Chamber of Commerce, and manufacturers will collaborate with the college in hosting the event. All are welcome to attend the festivities from 10 a.m. to 2 p.m. and enjoy refreshments as well as activities.
In its 30 years of service, Motlow Fayetteville has experienced a variety of development, growth, and change. Continuing its original mission, the college serves as an economic engine for the Fayetteville and Lincoln County communities by developing a workforce that helps recruit new business and expanding business into the area. Visitors can tour the campus, explore the educational opportunities that Motlow has to offer, and meet the faculty and staff who make Motlow's success possible. Visitors can also learn the history of the college and developing plans for the future of Motlow-Fayetteville.
Students considering Motlow or curious about available academic programs in higher education are especially encouraged to attend the event. To learn more, contact Fayetteville Campus Engagement Director and Director of Mechatronics Eric Reynolds at [email protected]. RSVP to the event at Motlow.edu/Fayetteville30.