Motlow College Foundation Receives $5,000 Grant from Smyrna Rotary
February 10, 2023
Motlow College Foundation was awarded a $5,000 Smyrna Rotary grant to support the Foundation's textbook assistance fund. The grant will provide additional funds to help eligible Motlow State Community College students purchase textbooks or access codes.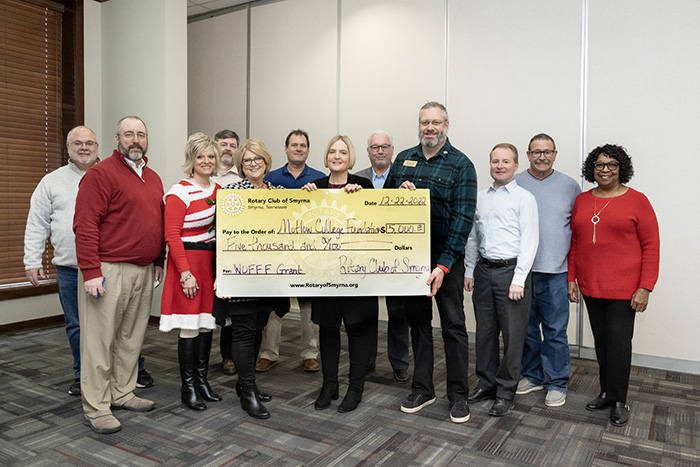 Pictured left to right: Smyrna Rotary board members Sean Hart, Jason Surratt, Judy King, and Eric Brown; Motlow College Foundation Coordinator Phyllis Daniel, Rotary board member Baker Raborn; Motlow College Foundation Director Sharon Bateman Rotary board member Brian Hercules; Motlow Smyrna Campus Engagement Director Gary Winton; and Rotary board members Robert Stevens, Jimmy Driver, and Carolyn Peebles.
About Motlow College Foundation
Motlow College Foundation is a nonprofit 501(c)(3) organization dedicated to generating support for Motlow State Community College. Our mission is solely to provide financial support for programs and activities that enhance the quality of education for Motlow State students and expand educational opportunities for communities throughout the College's 11-county service area. Motlow College Foundation supports the College by generating private and corporate gifts for scholarships, academic programs, student activities, campus buildings, athletics, special events, and other campus initiatives. For more information, call 931-393-1697, email [email protected], or visit motlow.edu/give.
About Smyrna Rotary Club
"Service Above Self" is the Rotary motto. Smyrna Rotary Club has supported Rutherford County and the community since the club was chartered in 1971. The club awards discretionary grants annually from funds raised at the Wings of Freedom Fish Fry. For more information, visit www.rotaryofsmyrna.org or www.wosmyrna.com.