Decorated Veteran Gains Additional Hardware
November 15, 2023
Motlow State Student and Army Veteran Sergeant Adam Creason recently received the Military Veterans Challenge Coin from Tennessee Board of Regents (TBR) Chancellor Flora Tydings. Motlow President Michael Torrence and Veteran Affairs Program Manager Clarice Griffin nominated Sgt. Creason for this recognition due to his exemplary academic performance and his noble service in the armed forces.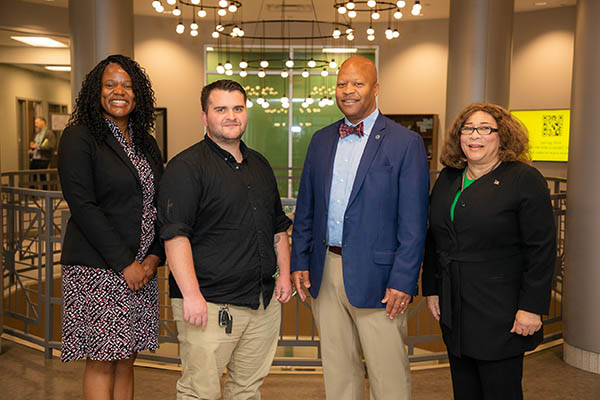 Pictured, left to right: Dr. Erica Lee – Director of Recruitment at Motlow-Smyrna, Sergeant Adam Creason, Motlow President Michael Torrence, and Clarice Griffin – Motlow's Veteran Affairs Program Manager.
See other photos from this event.
Sgt. Creason spent almost five years in the Army and another year in the Tennessee National Guard. He received an Army Commendation Medal, Army Achievement Medal, Army Superior Unit Award, Army Good Conduct Medal, National Defense Service Medal, Global War on Terrorism Medal, Korea Defense Service Medal, Non-Commission Officer Professional Development Service Ribbon, Overseas Service Ribbon, Expert Marksmanship Badge with Riffle Bar, and a Service Ribbon. During his time in the military, he found a love for the medical field through his time as a combat medic. As a Motlow student, Creason is putting that love to good use and is on his way to becoming a Paramedic and then a Registered Nurse (RN) through Motlow's Paramedic to RN program.
According to President Torrence, "With the acceptance of this nomination, Sergeant Creason joins an elite group of leaders who continue to transform our nation, communities, and colleges. They transform classrooms, campuses, and communities by their mere presence. Their experiences are a testament to their courage, vision, and commitment to freedom for all."
Griffin adds that "Sergent Adam Creason embodies the seven core values of a US Army soldier. The values are loyalty, duty, respect, selfless service, honor, integrity, and personal courage."
Chancellor Tydings bestows a challenge coin to veterans in the TBR system each year who "exemplify characteristics of courage, commitment, integrity, duty, respect, honor, discipline, and sacrifice" in their role as a student, former student, faculty member, or staff member.
Motlow is proud to have nominated Sgt. Creason for this award as he shows the same dedication to his program that he did to his country. The College values all that veteran students add to the college community and applauds veterans who continue to offer their service in the workforce.
Veterans interested in beginning a new career or eligible dependents of disabled veterans can contact [email protected] for help requesting educational assistance from the Department of Veterans Affairs. Visit Motlow.edu/students/veterans/ to learn the options available and how to complete the application process.