Decorated PTK Chapter Wins Again
April 21, 2023
Motlow's Alpha Xi Pi chapter of the international honor society Phi Theta Kappa recently attended a regional convention, returning with numerous awards for both students and advisors. Recognition included awards for chapter leadership and execution of service projects.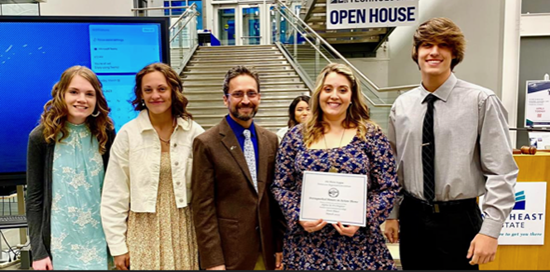 Pictured from left to right: Cloe Campbell, PTK volunteer; Amarah Dove, McMinnville PTK Vice President; Gregg Garrison, Regional Coordinator and Chapter Advisor; Misty Griffith, Chapter Advisor; and Raymond Morton, Vice President of College Project.
Not pictured members of the College Project: Ashley Portillo, Sofia Amaya, and Kia Dowen.
Awards included:
Chapter of Light Award
Publication in Tennessee Region Literary Publication: TN Mosaic


Student Raymond Morton
Student Kia Dowen

1st Place in Tennessee – Distinguished Advisor

1st Place in Tennessee – Continued Excellence Advisor

1st Place for Honors in Action Theme for TN
2nd Place in State for Overall Honors in Action Project
1st Place in State for College Project

1st Place Distinguished Chapter in Tennessee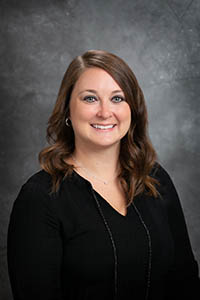 PTK Advisor Dayron Deaton-Owens, Associate Professor of Sociology and Psychology
Social and Behavioral Sciences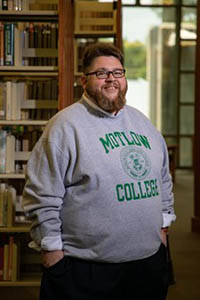 PTK Advisor Rob Keel, Completion Coach
All chapters of Phi Theta Kappa across the world participate in Honors in Action projects. Honors in Action project competitions motivate creative community service. Participating PTK members develop service projects that meet local needs.
Motlow's PTK chapter conducted research on how virtual reality might improve accessibility in higher education.
Each year, local PTK chapters must also tackle a project designed to build deeper working relationships with college administration. This year's college project focused on increasing student awareness of available mental health services. The combined projects earned Motlow's PTK membership first-place recognition as a Distinguished Chapter winner.
Motlow's PTK chapter now progresses to the International PTK Catalyst Conference in Ohio. Membership in Phi Theta Kappa is open to both full-time and part-time students upon completing at least 12 credit hours, a 3.5 GPA, an application, and a one-time $70 membership fee. To learn more, go to motlow.edu/PTK.