Decorated Motlow Team Returns
November 10, 2023
A group from Motlow State Community College recently attended the District 2 National Council for Marketing and Public Relations (NCMPR) conference. Motlow entered assets from various marketing campaigns and projects and returned with gold, silver, and bronze awards.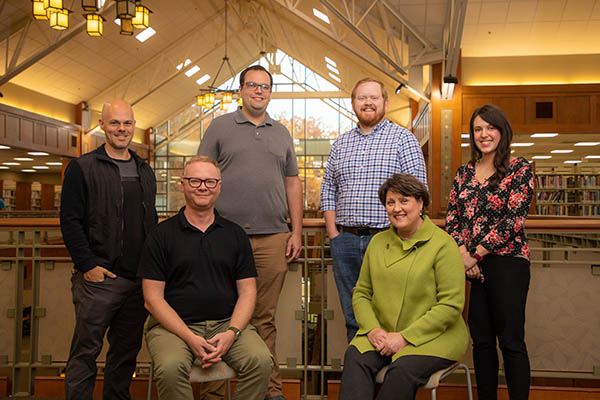 Motlow's External Affairs Team
Pictured, left to right – back row: Christian O'Grady - Videographer / Photographer and Digital Media Specialist, Kyle Henn - Graphic Designer and Marketing Specialist, Andrew Lamb - Digital Marketing Content Specialist, Sarah Raymond - Staff Writer.
Front row: Davis Seal - Director of Operations and Dr. Terri Bryson - Vice President of External Affairs.
NCMPR is an organization dedicated to providing professional development opportunities for community colleges across the United States and Canada. The council possesses 14 members on its board of directors, each one a community college employee volunteering time to NCMPR in order to help other colleges. The organization has 1,600 members across over 500 colleges split into seven districts.
Every year, NCMPR hosts a conference for each district to offer presentations on leadership and how to work effectively. The organization also takes time to recognize work from its members and bestows awards in numerous categories. In Motlow's district, the marketing team brought home the following awards:
Bronze
Annual Report Category for Motlow's Impact Report publication
Logo Design Category for the Buck Moon Logo
Silver
Postcard Category for the Unidos Spanish Club Invitation Postcard
Outdoor Signage/Displays Category for Branding the Public Entrances at Fayetteville's Campus
Gold
Digital Advertisement Category for the Motlow/Trevecca Articulation Agreement GIF
Successful DEI Campaign for the Students with Disabilities Club Packaging
According to Motlow Graphic Designer and Marketing Specialist Kyle Henn, "The conference served as a platform for knowledge exchange and networking with other college professionals in our district, further strengthening Motlow's position as a leader in the community college sector. I enjoyed discovering new marketing/design strategies, as well as learning about marketing successes and challenges that other institutions face. The recognition we receive for our work reminds me to be confident in what I do and that I play an important role in Motlow's marketing team. I am grateful the opportunity to attend the conference and look forward to applying what I learned to the College's marketing needs."
Digital Marketing Content Specialist Andrew Lamb added, ""It was great being able to represent Motlow and meet so many other great higher-ed marketers! I really enjoyed getting to learn from the wisdom of others who have made great strides for their institutions. I look forward to using many of the strategies we learned in the months to come."
Participating in gatherings like this informs the College on how to market effectively and create assets that serve students well. The feedback received from the judges and fellow community colleges informs Motlow's future planning. The awards are also an important way to recognize the successful collaboration at Motlow.
Motlow thanks the students, department heads, faculty, and staff who helped to make these projects successful. To learn more about NCMPR, visit ncmpr.org.