Deanna Freeman-Newman Memorial Nursing Scholarship Established at Motlow State
April 26, 2023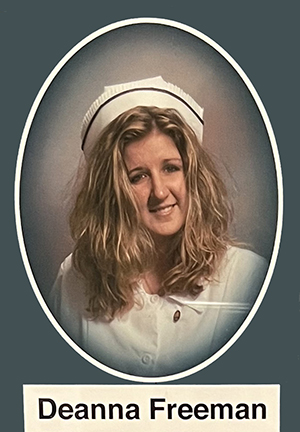 The Deanna Freeman-Newman Memorial Nursing Scholarship has been established at Motlow State Community College by her colleagues and friends to honor Deanna's passion and service in the nursing field. Deanna was a 2004 graduate of Motlow State Community College's nursing program. She was a Registered Nurse at Tri-Star StoneCrest Hospital in Smyrna, Tenn., for 13 years.
Deanna Freeman-Newman Memorial Nursing Scholarship applicants must be enrolled in the nursing program at Motlow State and have a demonstrated financial need, as evidenced by the completion of the Free Application for Federal Student Aid (FAFSA). Applicant must be a second-year nursing student. Nursing students may apply for the scholarship at mscc.awardspring.com. Applicants must have an assigned Motlow student ID number, email address, and login credentials to access the application.
For more information about this scholarship and other assistance opportunities, please contact Sharon Bateman, Director of Foundation Services, at [email protected] or 931-393-1697. Contributions to the scholarship can be made online at motlow.edu/give or by mail to: Motlow College Foundation, PO Box 8500, Lynchburg, TN 37352. Please indicate Deanna Freeman-Newman Scholarship in the notes or memo area.

Motlow College Foundation is a nonprofit 501(c)(3) organization dedicated to generating support for Motlow State Community College. Our mission is solely to provide financial support for programs and activities that enhance the quality of education for Motlow State students and expand educational opportunities for communities throughout the College's 11-county service area. Motlow College Foundation supports the College by generating private and corporate gifts for scholarships, academic programs, student activities, campus buildings, athletics, special events, and other campus initiatives. For more information, visit motlow.edu/foundation.