Two Motlow Staff Members Complete Maxine Smith Fellows Program
July 14, 2022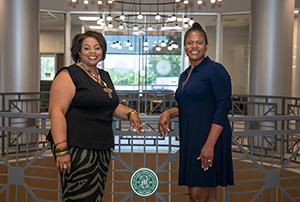 Two Motlow staff members recently completed the Tennessee Board of Regents (TBR) Maxine Smith Fellows Program.
Dr. Erica Lee and Barbara Scales are among 17 faculty and staff members from colleges and universities across Tennessee who completed the year-long leadership development program named in honor of the late Maxine A. Smith. Smith is a longtime civil rights leader in Memphis and a Tennessee Board of Regents member from 1994 to 2006.
"Maxine Smith's fight for desegregation has allowed me to serve the students of middle Tennessee. The Program provided an opportunity to study, plan, and create solutions to correct the disparities among students across the state," said Lee, director of Recruitment and New Student Services at Motlow. "I am forever grateful to be a part of her legacy."
The Tennessee Board of Regents (TBR) Office of Organizational Effectiveness administers the Maxine Smith Fellows Program, open to faculty, staff, and administrators at TBR colleges and the state's locally governed universities. Class members are nominated for the Program by the presidents of their institutions.
The Program's goal is to increase faculty diversity and senior leadership ranks in Tennessee public higher education. Class members met monthly for professional development, training, mentoring, and collaborative-based project opportunities. Since its inception, approximately 155 Fellows have completed the Program, and many have advanced into leadership positions, including college presidencies.
"The program has expanded my narrative on leadership and all it encompasses," explained Scales, executive director of Diversity, Equity, Inclusion, and Compliance at Motlow. "It has broadened my network of higher education professionals as passionate and dedicated as I am toward helping our youth across the state and abroad develop their purpose, discover their potential, and define their destiny."
In addition to the professional development of class members, the Program stimulates increased collaboration among institutions, growth of a statewide network for program participants, and an overall increase in the diversity of ideas, thoughts, and experiences within senior leadership ranks at Tennessee public higher education institutions.
"Leadership is a process," Scales said, explaining the components essential to the leadership she learned during the Program. "The act of defining leadership as a process suggests that leadership is not a characteristic or trait bestowed to certain people at birth; it can be learned. It is a belief that produces behavior."
For more information on the Program, visit tbr.edu/oesi/maxine-smith-fellows-program.
Tennessee's Community Colleges is a system of 13 colleges offering a high-quality, affordable, convenient, and personal education to prepare students to achieve their educational and career goals in two years or less. The system offers associate degree and certificate programs, workforce development programs, and transfer pathways to four-year degrees. For more information, please visit us online at tbr.edu or visit Motlow at motlow.edu.