Motlow's First Woman Awarded Chancellor's Commendation for Military Veterans
November 10, 2022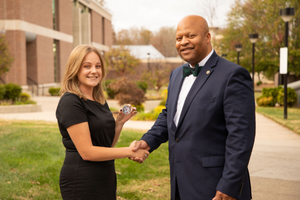 Jamie Roper, Motlow State Community College student and U.S. Marine Corps Corporal, was awarded the Chancellor's Commendations for Military Veterans. She is the first female Veteran at Motlow to receive this award.
"I always knew I wanted to be a part of something larger than myself," said Roper, who served four years as a Chemical, Biological, Radiological, Nuclear (CBRN) Defense Specialist. "Being able to attend a college close to home was one reason I chose Motlow. The College provided me the opportunity to pursue a higher level of education without having to go into debt with tuition being affordable."
The Tennessee Board of Regents (TBR) Chancellor Flora W. Tydings established the commendation to honor the service, bravery, and sacrifices of Veterans in the campus communities. Roper joins USMC Veteran Adam Boyd and Navy Veteran Zachary Dwyer, Motlow's 2020 and 2021 recipients, respectively.
"Veterans add a depth of leadership and maturity to higher education institutions. They transform classrooms, campuses, and communities by their mere presence. Their experiences are a testament to their courage, vision, and commitment to freedom for all," said Motlow President Dr. Michael Torrence. "It is an honor to present her this commendation and Military Veteran Challenge Coin."
Roper began her education at Motlow in the Fall of 2021 and plans to graduate this Spring. After college, she wants to become a Veteran Affairs counselor.
From 2013 to 2017, she conducted training to ensure that fellow Marines would be confident in their abilities to continue fighting if exposed to any CBRN threats. Although the job was serious, she enjoyed conducting a CBRN Surveillance and Reconnaissance Training Course. The course incorporated difficult terrain, enemy contact, exposure to deadly chemicals, and causality evacuation. The training was as real as real could get without warfare.
"This course incorporated difficult terrain, exposure to a chemical agent, enemy contact, and causality evacuation. Working in a simulated combat scenario environment can be demanding and challenging, but it is also rewarding," Roper recalled.
Her military service has prepared Roper to balance her education with her other obligations. In addition to being a full-time student and servicemember, she is also a wife and mother.
"I now use a planner religiously and have my days broken down to account for the needed amount of time to stay ahead of all my studies, and to also incorporate enough time to enjoy my family," she said. "Motlow provides so many resources, such as the math lab and writing center and even counseling services. What I have enjoyed most about being a student at Motlow State is how much Motlow sets its students up for success."
For a full list of commendation recipients, visit tbr.edu. For more information on Motlow's Veteran services, contact (931) 393-1529, or [email protected].