Motlow Students Receive Rachel Gamble Memorial Scholarship
December 14, 2022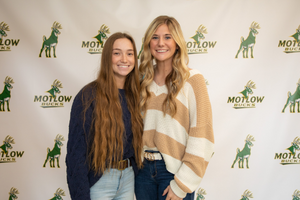 Two Motlow State students were awarded the Rachel Gamble Memorial Scholarship through the Motlow College Foundation the Fall 2022 semester. Kimberly, Ala., resident Anna Sullivan and Elkmont, Ala., resident Susanna Cruit.
The Rachel Gamble Memorial Scholarship was established by her family and friends to not only honor Rachel's legacy, but also help others who face the same challenges in life that she met with such style and grace. Rachel was a former softball player at Motlow State, who will always be remembered as someone who brought joy and happiness to those around her. The scholarship is awarded annually to a student-athlete to honor Rachel's memory.
"I chose Motlow because I have seen the success it has brought others. I had a great experience touring the campus and meeting the staff," said Sullivan, who is studying Elementary Education.
After Motlow, Sullivan wants to continue her education and earn her bachelor's degree. "This has made such a huge impact on my life. Receiving this scholarship has shaped me into a better person and made me appreciate what hard work can do for you," she said.
After reading Rachel's story, Cruit said she was reminded that no matter the skill level you have at anything, its effort and attitude that truly matter and for what you will be remembered.
"The Rachel Gamble Memorial Scholarship is an extremely special scholarship due to the individual and family it represents. Rachel was a bright light in so many aspects and the award winners are special as they join a representation of serving others before thyself," explained Motlow Softball Coach Janice Morey.
The Foundation is a nonprofit 501(c)(3) organization dedicated to generating support for Motlow State Community College by raising funds, increasing visibility, and strengthening partnerships between the College, state and local communities.
For more information about this scholarship and other assistance opportunities, please contact Sharon Bateman, Director of Foundation Services, at [email protected] or 931-393-1697.