Motlow Selected to Participate in AAC&U Institute on Open Educational Resources
September 29, 2022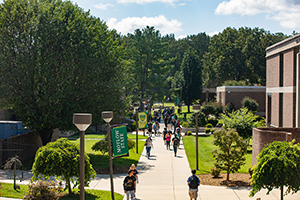 The American Association of Colleges and Universities (AAC&U) announced that Motlow State Community College was one of 73 institutions selected nationwide to participate in its 2022–23 Institute on Open Educational Resources (OER).
This yearlong institute supports educators in launching, expanding, or hastening campus adoption of accessible and affordable instructional materials. The institute will conclude with a capstone closing event on July 13–14, 2023. The team representing Motlow at this event includes Motlow's OER Facilitator Dr. Monica Butler, Associate Professor of English Donna Brewer, Business and Technology Department Lead Tracey Lee, Collection Strategist and Reference Librarian Carla M. Logue, and Academic Resource Center Director Ramona Shelton.
"We are thrilled to participate with AAC&U on this OER initiative. We are actively engaged in adopting OER as it leverages access and equity for all students. This is a testament to the foresight of our faculty and academic leadership teams. The opportunity to engage, retain, and graduate students through OER remains positive. Our students have access to academic content on day one of the semester. OER is another example of how Motlow powers student success," said Dr. Michael Torrence, President of Motlow State.
"We have two goals to achieve through this institute, increasing awareness of OER as well as its benefits and developing best practices for OER adoption at Motlow," said Butler. "Through this institute, we aim to develop strategies for educating the college community about OER."
Open Educational Resources are teaching, learning, and research resources in the public domain or released under an intellectual property license that permits the unrestricted use and re-purposing by others. It includes complete courses, course materials, modules, textbooks, streaming videos, tests, software, and other tools, materials, or techniques used to support access to knowledge.
Motlow's Academic Technology department has facilitated OER training since May 2020, supplemented by the Library's database of OER resources. Faculty in English, Social Sciences, Natural Sciences, and Business and Technology have led the way in OER implementation. Additionally, Motlow recently created an Academic Resource Center (ARC) critical to course and curriculum development.
The College continues to explore ways to integrate OER into existing and future High Impact Practices. This will require expanding OER Professional Development resources available through our Library and ARC.
"Motlow serves a diverse community with both rural and urban campuses. Our faculty and staff are well versed in Universal Design for Learning and Diversity, Equity, and Inclusion (DEI) initiatives linked to facilitating access and belonging in the learning process," explained Butler.
For more information, visit Motlow.edu.