Motlow Recognized as VETS Campus
August 2, 2022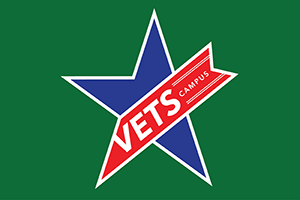 Motlow State Community College was recently recognized as a VETS Campus, according to the Tennessee Higher Education Commission, and pursuant to the Tennessee Veterans Education Transition Support (VETS) Act.
"Motlow prioritizes Veterans' unique needs so they can prosper while pursuing their education," said Michael Neal, Motlow's Veterans Affairs Coordinator. "Receiving this certification means that we've created programs to support Veterans during their transition from military service to college student and working professional."
Passed into law in 2014, the Tennessee VETS Act establishes a program of recognition for higher education institutions that allocate resources for Veterans' successful transition from military service to college enrollment. An institution receiving VETS Campus certification not only prioritizes outreach to veterans, but successfully delivers the services necessary to create a supportive environment where student veterans can prosper while pursuing their education.
Motlow's Veterans Affairs office helps assist Veterans and eligible disabled Veteran dependents with earning a high-quality education. The College also ensures that Veterans receive credit for their military service and training based on recommendations from the American Council on Education and the Community College of the Air Force.
Ways Motlow Supports Veterans
Tuition Assistance
Prior Credit Evaluation
New/Transferring Military Student Checklists
Scholarships for Servicemembers and Their Dependents
Helping Heroes Grant
Military Transition Grant
Counseling for Mental Health
"Motlow offers numerous ways to support our Veteran students. Information about military culture is provided to staff and faculty. We have developed a Veteran-specific orientation for new students and have established a support program comprised of Veteran staff and faculty volunteers who are resources for Veteran students who just need to talk to someone who has been through military service and transitioned to college," said Neal. "Additionally, after reviewing length of service and evaluating military transcripts, we award college credit to servicemembers for prior learning, which can significantly reduce the amount of time needed to complete their degrees."
To qualify for the VETS Campus designation, institutions must:
Conduct an annual campus survey of students who are veterans to identify the views, needs, issues and suggestions of veterans;
Provide information to faculty and staff about military and veterans' culture, including combat-related mental or physical disabilities or other challenges;
Administer orientation programs for students who are veterans;
Facilitate mentoring and support programs for students who are veterans;
Develop outreach and communication strategies for military bases located near the campus, for the purpose of assessing veterans' educational goals and meeting their identified needs;
Create and maintain a process for the assessment of prior learning that grants academic credit to veterans for transferable training and experience attaining through military service; and
Provide, on the campus website, information on the availability of prior learning assessments and potential program credit for skills, training or education obtained during military service.
Tennessee's Community Colleges is a system of 13 colleges offering a high-quality, affordable, convenient, and personal education to prepare students to achieve their educational and career goals in two years or less. The system offers associate degree and certificate programs, workforce development programs, and transfer pathways to four-year degrees. For more information, please visit us online at tbr.edu or visit Motlow at motlow.edu.