Motlow State Hosts 49th Annual Nursing Pinning Ceremony
May 10, 2022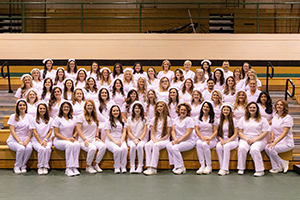 Motlow State hosted its 49th Annual Nursing Pinning Ceremony on May 6 in the Nisbett Center at the College's Moore County campus. Pins were presented to 55 students who have successfully completed the Nursing Program's graduation requirements.
The ritual of pinning a nurse is a long-standing tradition held at the conclusion of a nursing student's education. The pin is designed to signify the school the nurse attended and is pinned onto the student's uniform by nursing leaders who served as an academic leader in the learner's clinical journey.
The pinning ceremony itself also is steeped in tradition. The students wear the traditional white uniform and cap of the nurse and in honor of the founder of modern nursing they recite the "Florence Nightingale Pledge," and participate in the symbolic lighting of each student's lamp. Nightingale is known as the ˜lady with the lamp" because she saved thousands of lives while walking the halls of a battlefield hospital with a lamp to check on the soldiers. As a tribute to her dedication, the lamp icon, pledge, and lighting of the lamp are typically part of the pinning ceremony.
Mark Miller, RN, addressed those in attendance. Miller graduated from Motlow's Nursing program in 2020.
On May 9, students who have met all program requirements graduated during a formal commencement ceremony with an Associate of Applied Science (A.A.S.) degree in Nursing and will be eligible to sit for the NCLEX-RN exam to become registered nurses.
Awardees - Hometowns
Deborah Anderson – Murfreesboro
Sarah Arnold – Christiana
Emily Bacon – Readyville
Jenna Baily – Smyrna
Katherine Bowles – Lynchburg
Dominique Cannon – Fayetteville
Stephanie Carpenter – Eagleville
Juanita Cool – Baxter
Emily Coulter – Murfreesboro
Bethanie Davenport – Manchester
Megann Dorris – Murfreesboro
Elizabeth Duke – Manchester
Kayla Dunlap – Murfreesboro
Bayley Felice – Manchester
Macy Ferrell – Tullahoma
Ashley Flores – Manchester
Samantha Galbreath – Shelbyville
Sebastian Gewitsch – Murfreesboro
Sarah Goddard – Murfreesboro
Carla Green – Sewanee
Marilyn Hanlon – Smyrna
Leila Haston – McMinnville
Makayla Herrold – Lebanon
Rachel Hoilman – Murfreesboro
Allie Hopkins – Murfreesboro
Meghan (Rylee) Jones – Shelbyville
Ashley Kanewischer – Murfreesboro
Natasha Lenderman – Hillsboro
Cindy Lowe – Manchester
Kaitlyn McBrien – Lebanon
Ashley McLaughlin – Lynchburg
Misty Mears – McMinnville
Julie Newton – Murfreesboro
Rebecca Owczarczak – Sparta
Britney Perez – Sparta
Ashley Pierce – Tullahoma
Beth Roberts – Woodbury
Brianna Samuels – Antioch
Jeremiah Schmidt – Crossville
Ashley Search – Shelbyville
Jillian Sebia – Murfreesboro
Andrea Sharp – Fayetteville
Jeannie Sloan – Erin
Brittany Smith – Hillsboro
Lindsay Smith – Spencer
Alicia South – Murfreesboro
Jessica Spencer – Manchester
Alexandria Stewart – Lewisburg
Lindsey Strange – Murfreesboro
Rebekah Streich – Murfreesboro
Cheyenne Sutton – Smyrna
Brittany Wilkins – Murfreesboro
Madelyn Wood – Walling
Lori Wright – Tullahoma
Brianna Young – McMinnville
Photo gallery: https://photos.mscc.edu/Nursing-Pinning-2022/n-FJLgWh/
Tennessee's Community Colleges is a system of 13 colleges offering a high-quality, affordable, convenient, and personal education to prepare students to achieve their educational and career goals in two years or less. The system offers associate degree and certificate programs, workforce development programs, and transfer pathways to four-year degrees. For more information, please visit us online at tbr.edu or visit Motlow at motlow.edu.