Motlow Celebrates 14 New Paramedic Graduates
August 8, 2022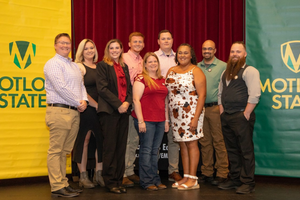 Motlow State Community College recognized 14 new paramedics during a graduation ceremony held August 8 in Powers Auditorium on the College's Moore County campus.
"This graduating class has put in a lot of time and effort and proven themselves to take their place among their colleagues in the field," said Houston Austin, EMS Director at Motlow. "I am very proud of all of their accomplishments. Motlow strives for excellence, and they have definitely achieved that."
Time-management is essential for successfully completing the Paramedic program. From the time they started the program to the time it was finished, they completed 1200 hours of class time and more than 600+ hours of clinical time to achieve their goals. The graduates can appreciate what they have accomplished as they prepare for their careers as valuable, highly-competent paramedics.
"This has been the hardest and most rewarding year I've experienced," said Hayley Corn, from Winchester. She plans to work for the Rutherford County EMS.
Most of the graduates completed Paramedic Certificates at Motlow, however, Taylor Mitchell and Jacob Wrisner also achieved their Paramedic Associate of Applied Science degrees. A paramedic is the highest level of EMT. In the field, paramedics can provide a higher level of emergency care, such as inserting an IV, administering drugs, and helping with pacemakers.
Several Motlow graduates were also recognized with additional awards of achievement, including:
Excellence in Academic Performance
Excellence in Clinical Performance
Excellence in Skills Performance
Jessica Quirk
Jacob Wrisner
Ashley Welcome
For more information about Motlow's EMS programs, contact [email protected]. Fall classes start August 22.
2022 Graduating Class
Ramina Askander
Katrina Cherry
Levi Coles
Hayley Corn
Gabriel Garcia (US Air Force veteran)
Cameron Hawkins
Dustin Horton
Jamie Lamb
Taylor Mitchell (US Navy veteran)
Jessica Quirk (US Army veteran)
James Richard (US Marine Corps veteran)
Alex Smith (US Army veteran)
Ashley Welcome
Jacob Wrisner
Photos from the event can be downloaded at: https://photos.mscc.edu/EMS-Graduation-2022/n-k8VrFP
Tennessee's Community Colleges is a system of 13 colleges offering a high-quality, affordable, convenient, and personal education to prepare students to achieve their educational and career goals in two years or less. The system offers associate degree and certificate programs, workforce development programs, and transfer pathways to four-year degrees. For more information, please visit us online at tbr.edu or visit Motlow at motlow.edu.