Motlow ARTC Receives Donation from MTNG Hometown Help Program
November 11, 2022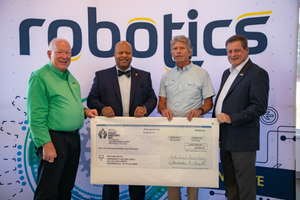 Motlow State Community College recently received a $5,000 donation from the Middle Tennessee Natural Gas Utility District through the District's "Project Hometown Help." The donation is for the Automation and Robotics Training Center (ARTC) at Motlow's McMinnville campus.
"We are always looking for worthy recipients in our servicing district where the money can best be used to serve the local community," said Middle TN Natural Gas Warren County Commissioner Fred L. Hoover, III. "Motlow has been a tremendous asset for Warren County and our contribution will continue to enhance their ability to provide high-quality training and education."
"Motlow State is pleased to receive this gift from the citizens of the Middle Tennessee Natural Gas Utility District. In support of our students and those who train through our workforce development program, our goal is to continue to advance and promote skills training for our community," said Motlow President Dr. Michael Torrence. "On behalf of Motlow, thank you to Middle Tennessee Natural Gas and Commissioner Hoover."
Funds from the Hometown Help voluntary program come from an automatic rounding up of participating customers' bills to the next highest whole dollar amount. This funding is used to advance education, assist economic development, promote local charities, and provide relief to the disabled and elderly for payment of natural gas bills.
This is the second time Motlow has received a donation from this program. The first was in 2018 when the ARTC was still under construction. The College plans to use the donation training equipment at the robotics center to support industry and academic certifications.