ACCUPLACER Assessment Test available now at all Motlow State campuses
July 19, 2022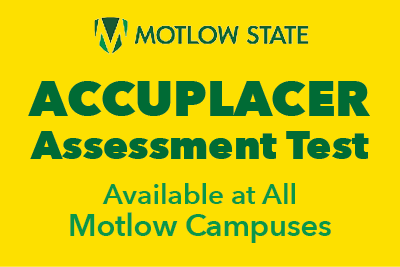 Motlow State Community College offers the ACCUPLACER assessment test at all Motlow campuses remotely and in-person multiple times through the 2022 calendar year. The ACCUPLACER test is not required for college placement. Multiple factors such as ACT scores, high school transcripts, or transfer college credits can be used by the college admissions office to determine your placement in college coursework.
The ACCUPLACER is a placement test that assesses students' level of skill and readiness for collegiate courses. The test is used as part of the admissions process to determine the level of college readiness in English, Reading, and Math. The test is computerized, multiple-choice, and not timed. The test is not a pass or fail test.
Before taking the test, students must have the following on file in Motlow's admissions office: a completed admission application, official high school and/or college transcripts, and, if applicable, official test scores. Special test accommodations are available for students who require other than standard conditions for taking the test.
The first initial in-person test is provided free of charge. Students who take the ACCUPLACER test and feel their test results have placed them incorrectly may challenge their initial placement score and retake the test or portions of the test. The college charges a $10 challenge fee for each portion of the test or $20 to challenge the entire test.
The fee for taking the test remotely is $25. The test is proctored online through Examity. The $25 fee is paid to Examity when scheduling an appointment.
For more information and to schedule an appointment, please visit the Testing Center or call 931-393-1763 or 1-800-654-4877 ext. 1763.
Tennessee's Community Colleges is a system of 13 colleges offering a high-quality, affordable, convenient, and personal education to prepare students to achieve their educational and career goals in two years or less. The system offers associate degree and certificate programs, workforce development programs, and transfer pathways to four-year degrees. For more information, please visit us online at tbr.edu or visit Motlow at motlow.edu.